ENROLLMENT FOR THE 2020-21 SCHOOL YEAR:
Moorhead Central School is making telephone contact /email contact/social media contact with parents to schedule appointments for student registration.
If you have not been contacted, please call the school for an appointment. All students must be registered for the upcoming school year.
Monday, June 29, 2020, through Friday, July 3, 2020. The District will be closed during these days.
---
Rosser Early Learning Center is as follows:
Provide registration documents at the site closest to you or bring all registration documents to the Administration Bldg located at 702 Hwy 82 East in Indianola.
You may also call 662-887-4919 for Mrs. Reynolds or Ms. Velma Hall.
---
MC Summer Learning
→ Zoom Independent Practice
---
Dear Parents and Guardians of Moorhead Central School Students,
We will start our Virtual Summer School on Monday, June 1, 2020 and it will end June 25, 2020.
Summer school days will be Monday through Thursday. Information sheets for your child will be uploaded through School Status. These sheets will guide your child on how to log in for their virtual lesson and will let them know who their teacher will be. Summer school is for enrichment purposes only.
Students will also have math and reading lessons assigned on iReady for those students who have access to a computer, laptop or tablet. We ask that students complete 1 lesson in math and 1 lesson in reading each day on Monday through Thursday starting on June 1st. These are lessons that will support students continued learning while we are going through this pandemic. We implore our parents and guardians to encourage your child to complete the lessons daily and to do their very best on each lesson. Educational packs will be available at the school for those students who do not have computer access. They may be picked up beginning Monday, June 1, 2020 from 9:00 a.m. to 2:30 p.m.
We are here for our students and parents. Please feel free to contact Principal Newson or Ms. E Warren with any questions or concerns. Our school number is 662-246-5680.
Educationally yours,
Principal Glen Newson
---
Moorhead Central Class of 2020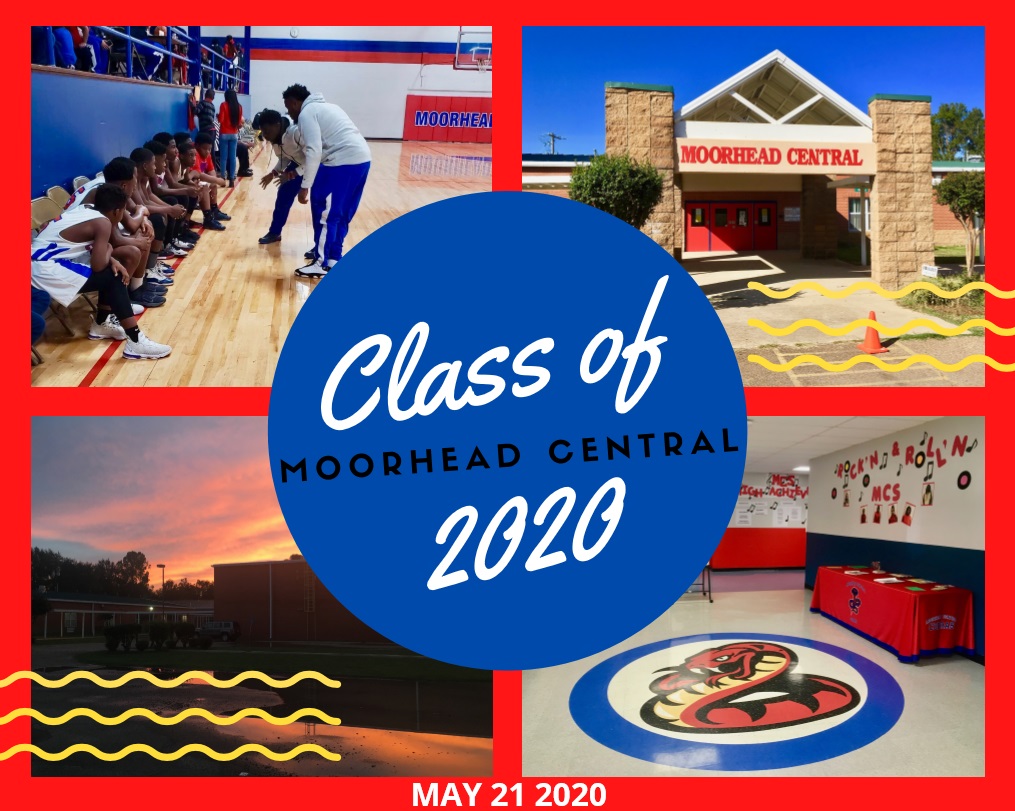 ---
Hello Moorhead Central Family:
I pray that everyone is doing well during this unprecedented time in our country's history. Since the inception of The Moorhead Central, we have made great progress working together. It is our goal to continue making advancements in our education system, while ensuring that our students, staff, and families are safe during this challenging time. In our efforts to make sure that our students continue to be engaged and to increase student achievement in our district, teachers have created assignments on one of our software programs, iReady, in ELA, math and science content areas. We have also added additional educational sources on our websites that can support parents and students through this journey.

To support homes that may not have internet or access to computers/smartphones, we have created educational activity packets. These packets may be picked up on the campus of The Moorhead Central during the times that lunch is being provided to students. Our district is complying with Federal guidelines for COVID 19 responses. Please feel free to contact me on my cell phone at 662-207-8037 or you may email any questions to gnewson@sunflower.k12.ms.us.

I want to encourage you all by simply saying, "With the help of our Almighty, as well as working together, there is an exit on the other side and we will get through this." Please stay safe and let our students know that we miss them dearly. May God bless SCCSD and the United States of America. Thank you.

Educationally yours,

Mr. Glen Newson, Principal